For Madeleine's Emoji birthday party, I set out to make roll-out sugar cookies with royal icing. After some trial and error, I got the hang of it. And then I wanted to try the whole thing again! Is anyone else like that? Once I've tried something, I want to try it again and again to become MASTER of whatever it is.
So I set out to make sugar cookies in the shape of my favorite flower, the tulip. I found this recipe created by Alton Brown and the dough came together beautifully both times. The rolling was a cinch and these may just be the best sugar cookies I or my hubby have ever tasted.
Then came the fun part–the royal icing! I was intimidated by the process both times. But in an effort to not to be forced into inaction by perfectionism, I just went for it.
First, I dolloped out some icing into a prep bowl and sprayed it with water 5 or 6 times. After stirring the icing and water, I lifted up my tiny coffee spoon and if the icing flowed off the spoon, then it was the right consistency for "flooding."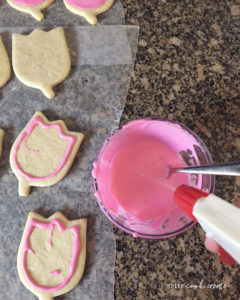 Next, I fitted my pastry bag with a circular tip and piped a border along a few cookies at a time. Then scooped up a small amount of the watery icing for the flooding and carefully pushed the icing around the cookie up to the piped edges. The flooding is seriously the best part. Fast, easy, and creates a perfect final result!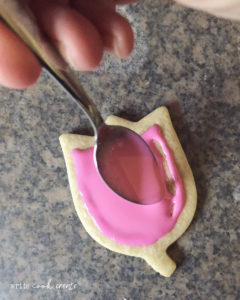 (Note: I kept a toothpick handy for popping any particularly noticeable air bubbles.)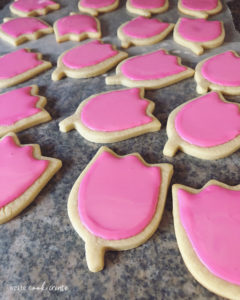 And that's what I did for dozen after dozen of cookies. Then I let the frosting set for a good 6-12 hours before stacking them. Because I did all of this in the afternoon, I tucked some in storage containers and the rest I set out on my stackable cooling racks and then draped with clean dish towels to keep them from getting too dried out. When I checked on them in the morning, the icing was firm and perfect!
In these last photos, you can see the air bubbles that I failed to pop. The icing on these cookies was still drying, but I had to snap photos before it got dark!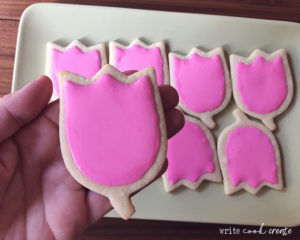 <script async defer data-pin-hover="true" src="//assets.pinterest.com/js/pinit.js"></script>