This morning I stumbled upon this photo from 2014. Three years ago, y'all! We still lived in Oregon then. Beautiful chilly Oregon.
We'd driven down to the Corvallis Waterfront, a beautiful park along the Willamette River. It was chilly but not raining so we bundled up the kids as much as they would let us and I brought my big camera to try to get a decent photograph for our Christmas card. The kids didn't really want to pose. It was cold and everything was damp with dew. So I had them climb up on a picnic table and told them to hug each other.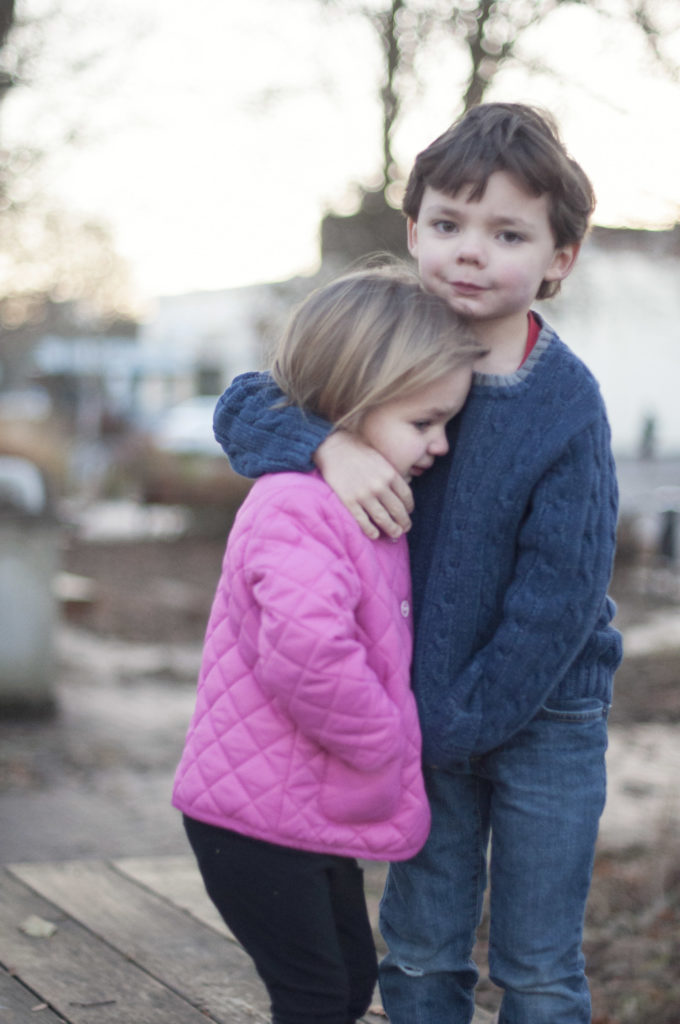 So Benjamin naturally put Madeleine in gentle headlock.
And then swung wildly the other direction. Way too much affection, bud!
And then everything fell into place for one brief moment, and I got this gem!

…. I still cannot believe how big they look in this photo. Madeleine was almost 3 and Benjamin almost 5. Big and also so little. I mean, look at those baby teeth!
I slapped on some Merry Christmas text and sent this photo out as our Christmas card that year. Looking at it again, I realize I really need to print it as an 11×14 and display it up on the wall. Not only are my children beautiful in it, but this photo, like so many others, makes me miss our Oregon home. The cold-weather clothes and cold noses and rosy cheeks. And friends. So many friends who became like family. Who still are family.
I wonder when I will stop missing that place so dearly. I no longer am on the verge of tears when I think of the weather, the mountains, the coast. But I get pretty close, depending on the day. We love being near our Texas family (which is ALL of our immediate family) again and the family property and making new friends. But…
…Oregon will always have a piece of my heart