Friday nights at our house are Pizza and Movie Night. And this past Friday, when I got ready to assemble the pizzas, I realized I had no pizza sauce. Whoops. I will do almost anything to avoid a last-minute trip to the grocery store, so I immediately thought, 'You know what? I've got this. I can make pizza sauce.' So I busted out a can of diced tomatoes and put them in my little food processor.
Important Note: Be sure to drain your tomatoes before pureeing them. I did not, which made transforming the tomatoes into sauce much more difficult than it needed to be.
Then I started thinking about traditional Italian spices and what made sense to add. So I added 1/4 teaspoon of salt, onion powder, garlic powder, parsley, basil, and oregano. I live in fear of overdoing it with spices. So I pureed that all together, tasted it, and of course, I had underdone it with the spices.
I added an additional 1/4 teaspoon of all those spices.
The second taste test was delicious but the texture was still too watery (why didn't I think to drain the tomatoes??). And for some reason I do not keep tomato paste stocked in my pantry. So I ran over to the neighbor's yard where they were putting up Christmas lights and begged for a can of tomato paste. Another neighbor was there and both of them had tomato paste a'plenty.
I added about 1/2 cup of tomato paste and called it good. The sauce was thick and while it could have been thicker, I risked having the tomato flavor completely overtake the spices. The sauce went on to the crust beautifully and tasted delicious! My kids didn't even notice a difference which was the true test for me. Success!
While I often make my own pizza dough or pick up the yummy dough from Trader Joe's, this time since I was sick, I decided to treat myself to a Central Market crust 2-pack! Easy and affordable and did I mention easy?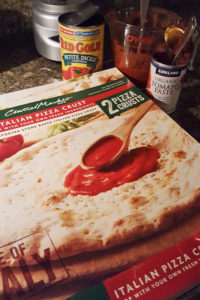 What would I do differently next time? Drain the tomatoes and add fresh garlic! Otherwise, I'm very pleased with this sauce and will certainly make it again. But first, I need to go buy some tomato paste.