It's only the fourth day of summer and since VBS and camps haven't started yet, my kids are already saying the dreaded "b-word." So to help with the boredom, we are trying out the whole array of educational online activities that Homeschool Buyers Co-op has generously offered FREE for the summer! I'm always on the hunt for affordable activities and educational opportunities and it doesn't get much more affordable than free!
This is also a good chance for me to try out programs I likely wouldn't have paid for or even thought to have demoed. Speaking of which, I'm tempted to try the 14-day trial of The Great Courses for myself!!
My 8-year-old son plans to be a programmer game designer one day, but we haven't let him spend much time tinkering around online because of the expense. So he's especially excited about trying out this one:

Also because of his relatively young age, I have shied away from other coding camps and online programs, so the chance to try out CodaKid for the summer is such a blessing. Especially since he's outgrown our other go-to online programs like Starfall and ABC Mouse (when we had a subscription to it).
Since we don't have cable television, I think my 6-year-old daughter will enjoy being able to stream Disney shows this summer via CCC! Streaming Media: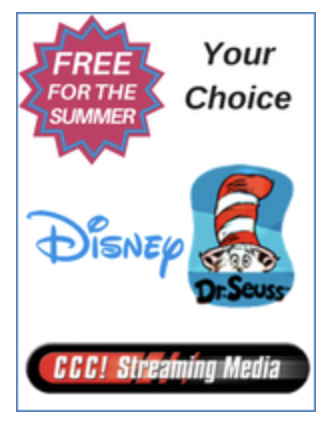 I'm curious to see how they handle the content but knowing that it's commercial-free is a huge plus. My kids are part of the Netflix Generation so they're not used to commercials anyway! I also think Madeleine will enjoy watching the videos and playing the games on the Q Wunder app, which is all about helping kids learn social and emotional skills.
Check out the complete list of all 10 free activities HERE. Enjoy!