When we made the decision to homeschool again, I knew I would need to keep our costs as low as possible, which meant bargain shopping! I soon found 5 websites for new and used books that consistently had the best deals available. The overall savings so far have been tremendous because for many items, I simply don't need brand-new.
Now I simply price compare between all of them before making a purchase.
So here are my Top 5 places to shop so you, too, can be the Bargain Shopping Homeschool Mom you've always wanted to be.
1. Hunt for deals on Homeschool Classifieds
Homeschool Classifieds is essentially Craigslist for homeschoolers and is now one of my Happy Places. The user interface isn't fancy but it gets the job done. Here's how it works. After registering for a free account, you can choose to shop by subject matter, age range, publisher, or via my favorite option–the search bar.
To find the best deal, I check back almost daily.
The helpful Recent links at the top of the page make that easy! Many items' prices include the postage ("ppd") whereas others are listed with just the item's price so that you can order lots of individual items, like readers, and then the seller will calculate the media mail rate for you. All payments are handled through PayPal or sometimes by check.
Here are some of the best deals I've found on Homeschool Classifieds:
Life of Fred

books (Apples, Butterflies, and Cats) for $35 ppd. The LOF books are bound with library binding, so even when purchased used, these books were in excellent, like-new condition. (27% savings)
 

Singapore Primary Math

2A and 2B full sets for $50 ppd. I was able to buy the Textbook, Home Instructor's Guide, and Workbook for both 2A and 2B for a screaming deal! All clean and "like-new." (48% savings)



Janice Vancleave's Biology for Every Kid

for $8 ppd. I needed this book for our science curriculum but didn't want to pay full price since we only need it for a portion of the experiments. (50% savings)

And just yesterday, this deal!!

Spelling You See Level B & C Teacher's Guides

for $10 ppd. Both of these teacher's guides were in "nice" condition and are $21 each new! (77% savings)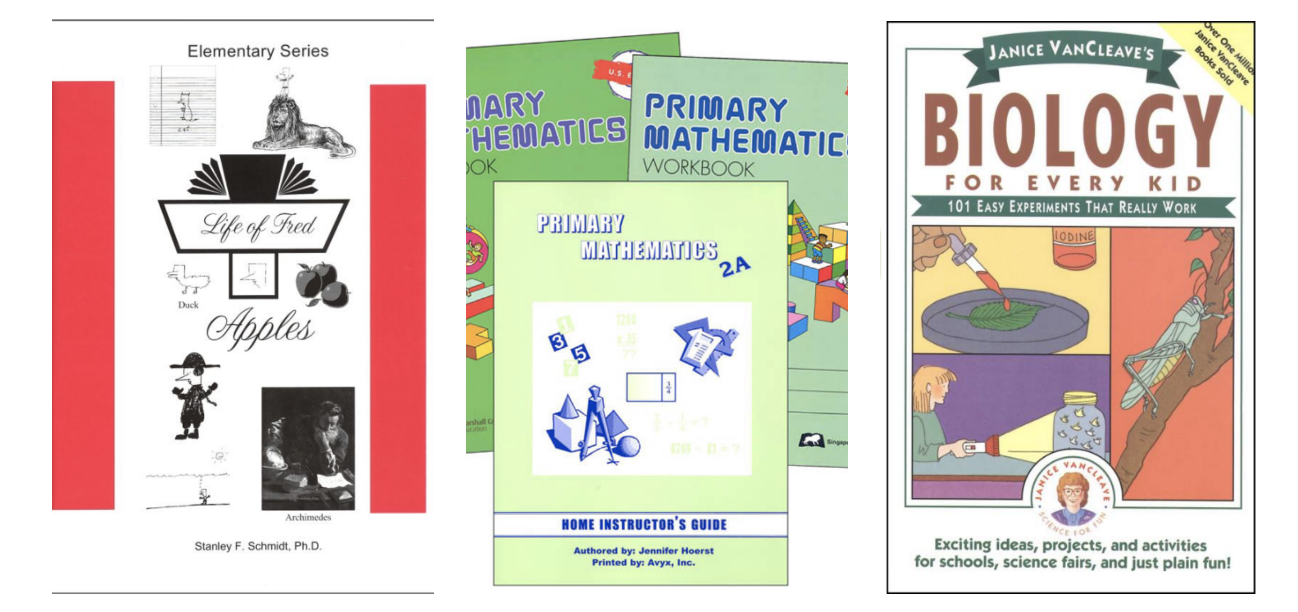 (If you'd like to see what I have for sale on Homeschool Classifieds, here's my profile page.)
2. Always check eBay
Good old trusty eBay! I've had an account with them since I was in high school, which is why I have an embarrassing username that I can never change because of all of my positive reviews. Nevertheless, I love eBay. But I initially forgot to look there for curriculum because I never shop there for books. While I've only scored a few items on eBay, they've been great bargains!
Here are two of the best deals I've found on eBay:
Teacher Guide plus 2 Student Workbooks

for Elemental Science's Biology for the Grammar Stage curriculum for $28.50 (free shipping!). The three books are Like New and worth taking the chance! The same bundle on the curriculum's website is $16 more even when on sale (37% savings).



Singapore Primary Math

1B Home Instructor's Guide for $13.17. Because I'm hunting for the best deal, that means I sometimes lose out on the small discount that the bundled sets offer. But even with the slight discount on a bundled set of Singapore Primary Math 1B books, buying them used, and often individually, has paid off! (33% savings)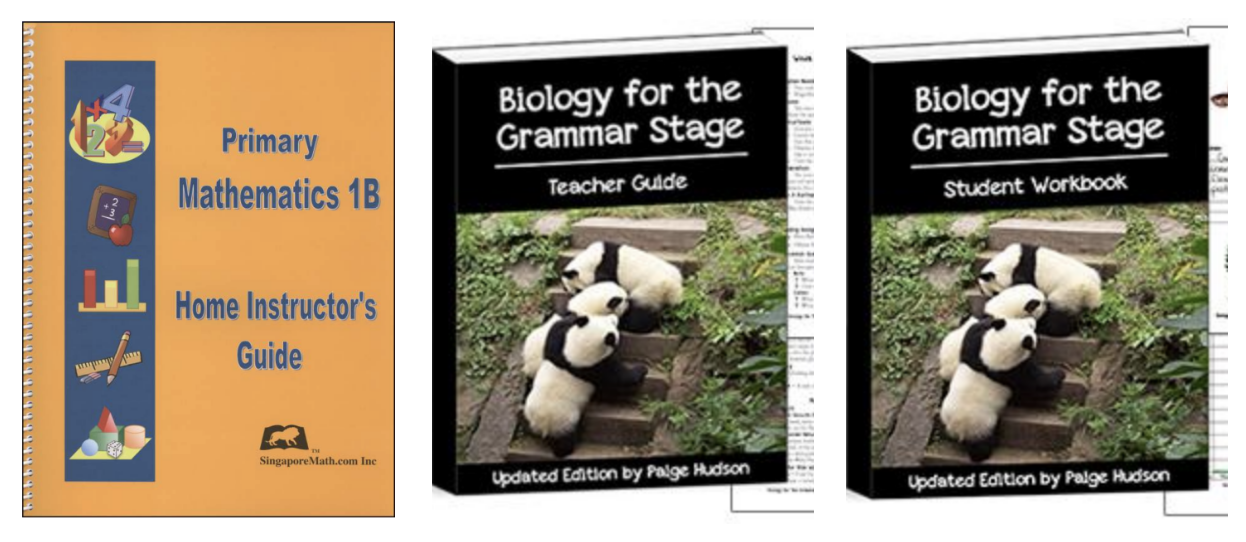 3. Shop for NEW books at Rainbow Resource
When I was homeschooling my son for kindergarten in 2016, I discovered Rainbow Resource and never looked back! For 99% of new curriculum items, RR has had the cheapest price. Plus they offer Free Shipping on all orders over $50, which is easy to hit without even trying!
They also have a handy Wishlist option, so I can build lists for each child's curriculum needs. This also simplifies price comparison for me because I simply open the Wishlist and compare away! (Note: For other sites, I often just leave things in the Cart–like on Amazon–but if I leave them in the cart on RR, they send reminder emails all the time. No thanks!)
Here are some of the items I'll be buying from Rainbow Resource because I can't find them cheaper in new condition anywhere else:
Maps

by Aleksandra & Daniel Mizielinksi for $22.50. This is $12.50 less than Retail and even $2.50 cheaper than on Amazon (which is quite the feat). (35% savings)

Building Spelling Skills

Worktexts by Christian Liberty Press for $7.50. These workbooks and the answer keys are already affordable at the list price, but the extra savings is nice! (29% savings)


Child's First Book of American History

for $25.95. This gorgeous hardcover book illustrated by James Daugherty is the spine for Beautiful Feet Books' American History Intermediate, so we technically don't even need it yet, but gah! It's so lovely! (22% savings)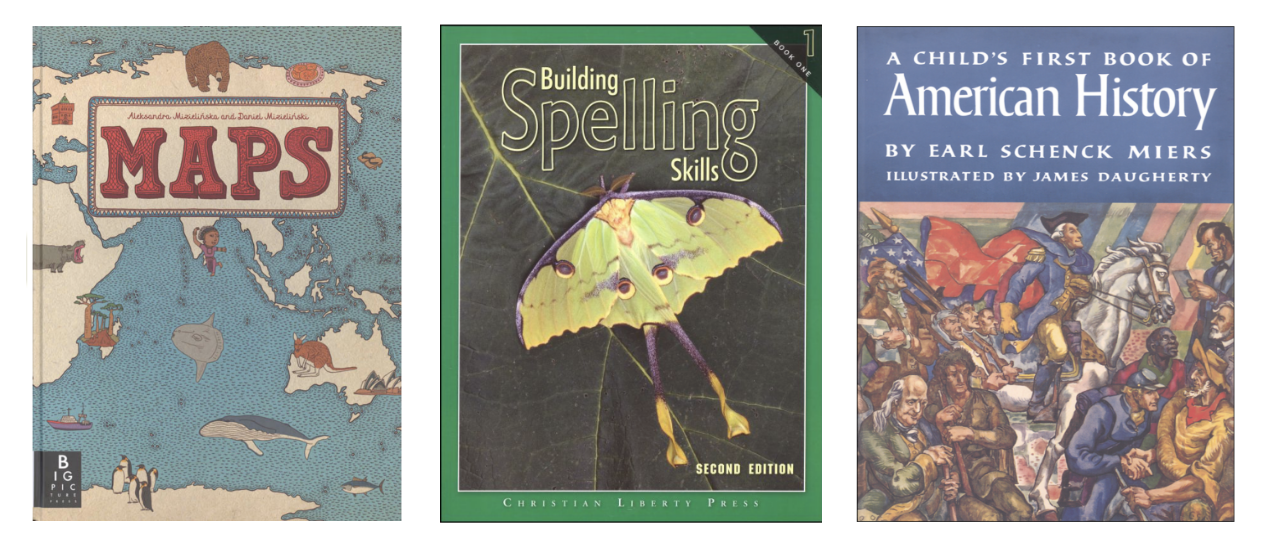 4. Search Titles on AbeBooks and ThriftBooks
For this round of curriculum shopping, AbeBooks has been a reliable source of cheap prices and free shipping, while I've found zero books on ThriftBooks for a good price. ThriftBooks seems to specialize in fiction and textbooks more than curriculum titles. I still check it out of a compulsion for thoroughness, of course, because you never know!
When searching on these resale websites, I usually search using the ISBN to make sure I'm getting the correct book. At the very least, confirm the correct edition. I prefer to use the ISBN because it's easy and for titles that have a common name (e.g. "Mirror" by Jeannie Baker), the ISBN cuts out the extraneous books without having to also type in the author info.
Here are some of the deals I've found there, all with free shipping:
The Lotus Seed

for $3.95. This beautiful picture book is part of our Beautiful Feet Books Around the World curriculum and was in "very good" condition. (40% savings) 



Janice VanCleave's Science Around the World

for $6.76. This is one of the experiment "spine" texts for our Biology for the Grammar Stage curriculum by Elemental Science. The book was listed as in "very good" condition, which is basically "like new" to me! (52% savings) 



DK First Human Body Encyclopedia

for $4.49. Another "spine" text for our biology curriculum that was only in "good" condition which just meant the cover was a bit beat up. Fine by me! (69% savings)
If you're looking on Amazon for books, always check the used books listed there by other sellers. Sometimes there's a good deal to be found.
5. Never forget to check the publisher's site
This is especially important for hard-to-find titles and for special discounting on bundles, especially when you want to buy the books new.
For example, we are using Beautiful Feet Books for American History. If I wanted to buy the guide and the books NEW in one big bundle, they offer essentially the best price (within a few dollars of buying them individually). Beautiful Feet Books also sells hard-to-find books and in some cases actually brought the titles back into print. The D'Aulaire titles are hard to find cheaper anywhere else new or used (because they're beloved and people hold onto them!), so if you can combine the purchase with a free shipping code then they're the cheapest you'll find anywhere.
For example, the George Washington book by the D'Aulaire's is $17.95 on Amazon and the Buffalo Bill is $22.95! Compare those prices to the ones in the images below straight from the Beautiful Feet Books website.

Happy Bargain Shopping!
What's the best bargain you've gotten on curriculum? Please share your deals & steals in the comments! After all, half the fun of shopping is sharing the bargains you get, right??