Are you looking for a handmade witch's costume that is more fun than scary? This quick and easy costume is easily customizable!
Why a Witch?
As a kid, my siblings and I were never allowed to dress up on Halloween as witches or ghosts or anything else even vaguely creepy. So when Madeleine told me she wanted to be a witch for Halloween, my first instinct was to say, "No," even though I didn't have a good reason why.
I don't really want my kids dressing up in super-scary grotesque costumes. Why?Well, we're more of a fantasy magic kind of family (think Harry Potter and the Narnian Tales). For us, magic is just plain fun and while the occult and witches and warlocks do exist, I knew that Madeleine dressing up as a witch didn't have to mean dark magic.
So once I got over my childhood issues and worrying what others might think of my little girl dressing up as a witch, I set about looking for a costume that would convey the light whimsical side of magic that our family loves. And quickly found this DIY costume on which to base our own witchy vision.
We're still on a tight budget, so I needed to keep the cost of supplies low. When we got to Michaels, I realized buying seven rolls of tulle (that weren't on sale) was going to be impractical.
So we adapted the costume right then and there. When I asked Madeleine what she thought of the Halloween-themed ribbons, she jumped right on board with the idea. I even explained why we were considering the ribbons ($$) and she understood with no complaining! So we picked out two rolls of glittery green tulle and four rolls of ribbons in two patterns (which were 50% off).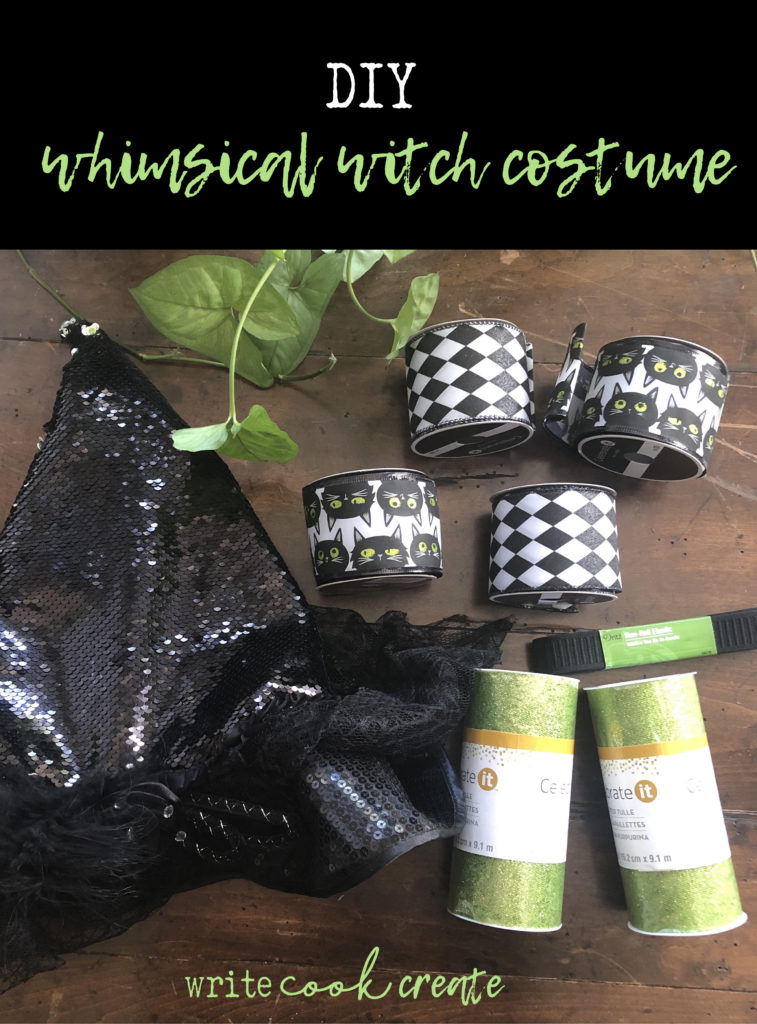 The Supplies
4 rolls Halloween satin ribbon (so that it's comfortable against her skin)
2 rolls green glitter tulle
1″ non-roll elastic band
Witch's Hat
Black leotard
Optional: black-and-white-striped leggings, black boots, broom
The Hat
I briefly had visions of DIY-ing a witch's hat but quickly realized I didn't have the energy for that. All of the Halloween costume materials were 50% off the day we went to Michaels, so we snagged this flippy-sequined witch's hat for $10 and called it good!
The Skirt
Assembling the skirt was quick and easy! Madeleine put on the black leotard we already owned from ballet last year and got ready to transform into a witch.
Step One: I wrapped the elastic band around Madeleine's waist, cut it to size, and then stapled the ends together. Done!
Step Two: I measured a length of ribbon to Madeleine's desired length (mid-shin), doubled it and cut it. I cut the rest of the ribbon and tulle to that length.
Step Three: With Madeleine wearing the elastic band, I made a loop with the ribbon/tulle by folding it in half, slipped it behind the elastic band, then pulled the rest of the ribbon through (i.e., a cow hitch ). I did this over and over with each length to fill out the skirt. I alternated two lengths of green tulle with one ribbon and then alternated the ribbons.
And presto! A whimsical witch's skirt!
Glitter Tulle: A Word of Caution
Glitter tulle means all…the…glitter! Piles and piles of super-fine glitter. I had no idea! If I had known, I would've paid a little bit more at Joann's for their new Glimmer Tulle!
After I assembled the skirt, I stepped outside and shook out the glitter…many…many times. I had to immediately stuff the skirt into a plastic bag because she absolutely can't wear it around the house because GLITTER! I am going to buy a big can of aerosol hairspray this week and spray the heck out of this skirt…after shaking it out a few more times. Hopefully it helps!
Total Project Cost
4 Rolls of Ribbons – $10
2 Rolls of Tulle – $5.25
1″ Non-Roll Elastic – $2.50
Witch's Hat – $10
TOTAL: $27.75

Despite all of the glitter, I'm still super pleased with the way the skirt turned out. And most importantly, so is Madeleine! We didn't break the bank, and I think we achieved the magical feel we were going for.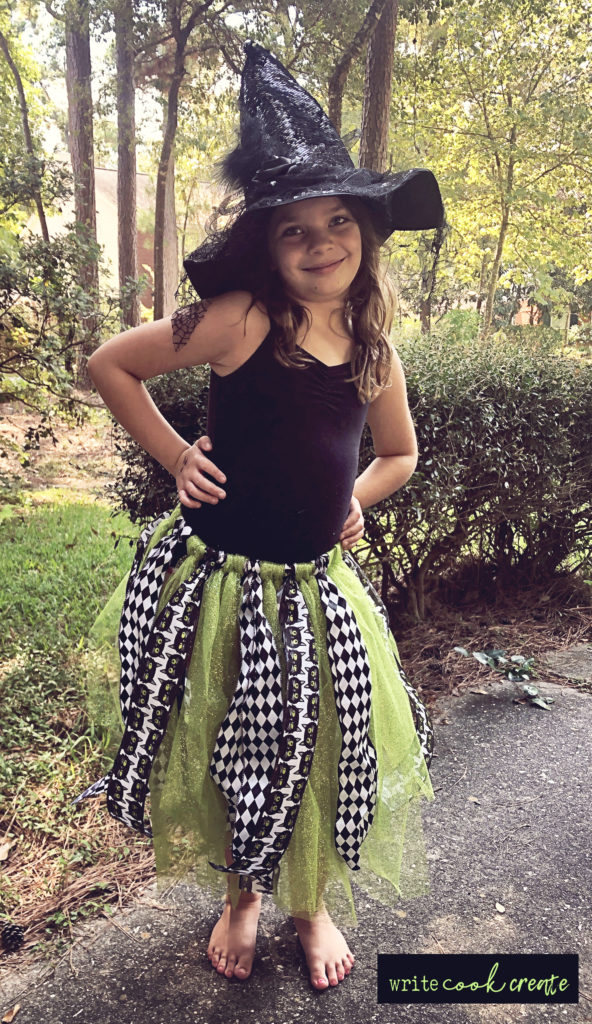 For trick-or-treating, Madeleine will put on some black leggings and a pair of old black boots. And because we live north of Houston, she likely won't need a jacket (in case you were worrying about her chilly arms).
Now I'm off to go shake out that skirt…again!